The the seven stones path, is a project that retrieves an ancient peasant path of 2 kilometers, that links the small towns of Pietrapertosa and Castelmezzano. The path is spread over variable tranches: from 920 meters to Pietrapertosa down to 660 meters in the valley of the Capperino river and dates back to 770 meters in Castelmezzano.

The path takes its inspiration from the stories handed down orally among generations and the collective imagination, which underlie the text "Vito ballava con le streghe" written by Mimmo Sammartino (Sellerio publisher Palermo).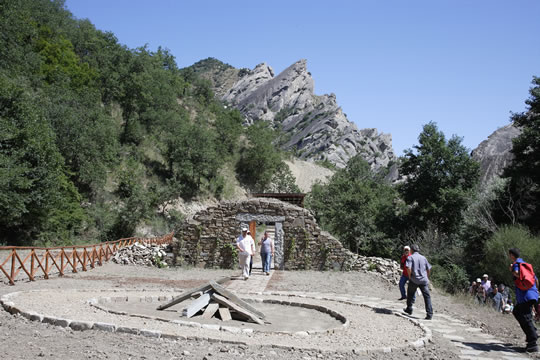 Along the path the story turns into visual forms and evocative sound and becomes a story engraved on the stone.
Each stage includes a fitted space where is placed an art work that evokes a sequence of the story, and a sound environment that offers additional suggestions to the magic of nature revealed.

The steps are 7 and each of them proposes a keyword that returns the sense of the story: destiny, magic, witchcraft, witches, flying, dancing, delirium. In the middle stage - witches - is offered to visitors the full story, with scenery suggestion and sound.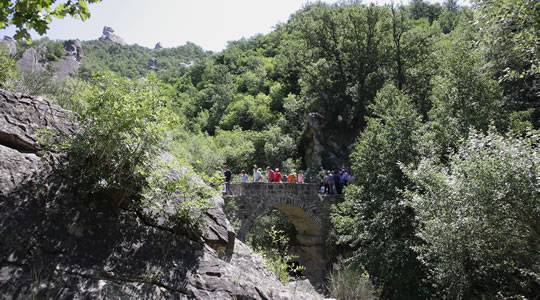 Along the old sheep trail, the visitors can experience three different paths:

The literary walk
The walk themed with narrative fragments from "Vito dancing with the witches";

The Visionary path
The discovery of an itinerary divided into 7 art installations that reflect the shared public's imagination;

The scenic route
The path aims to discover the peculiarities of the natural landscape along a path that includes stop areas located between the different stages.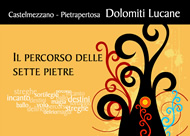 C'è una storia di pietra lunga duemila metri e anche di più.

E' una storia di racconti e di visioni.

Di segni impressi lungo il percorso delle sette pietre.

Dice di quelle donne, le masciare, che si ungevano con l'olio fatato raccolto nella cavità di un albero di ulivo.

Dice di quando attraversavano la notte sulla groppa di cani bianchi.

Dice di Vito, il contadino, e di quando, preso da fattura d'amore, ballava con le streghe.
Mimmo Sammartino

Informations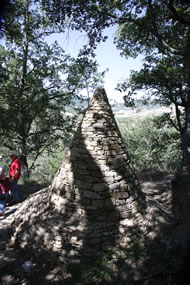 Comunità Montana Alto Basento
Tel. 0971 499229

Castelmezzano Municipality
Tel. 0971 986166

Pietrapertosa Municipality
Tel. 0971 983002

altobasento.web.it




Depliant informativo