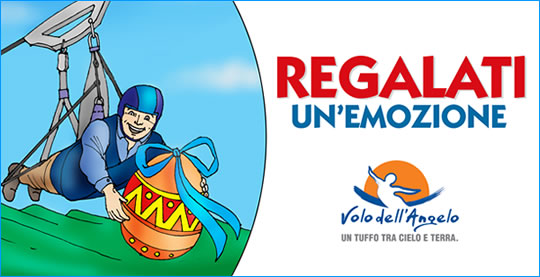 Buy now the Angel Flight voucher and save up to 10 Euros on the ordinary price. This promotion is valid until April 9, 2012 >> Buy now



A GREAT SURPRISE INSIDE THE EASTER EGG
THE SURPRISE? A TICKET FOR THE ANGEL FLIGHT
Up to April 9, 2012 you can buy online a discount voucher to fly during the 2012 season that starts on April 29.

Experience an unusual emotion. This is the recipe for happiness, as states a study at Columbia University. The research highlights that spending money to try new emotions, rather than to purchase items, even luxury, gives more benefits and satisfactions. The emotions of life are more intense because they do not end at the time of consumption but remain in the memory and everyone can always relive mentally and share with others.

That's because for the next Easter, the original idea is to find inside the chocolate egg, as a surprise, a great emotion: the adventure of Angel Flight.

From 5 March to 9 April (Easter Monday) it's possible through this web site to purchase tickets (up to a maximum of 10) at a price of 30 Euro, which are used for the Angel Flight in any of the opening days of the 2012 season which that starts on April 29. "A big saving - says Nicola Valluzzi, CEO of Angel Flight Consortium - when you consider that the cost of the ticket during the holidays is 40 euros and 35 euros on weekdays. A way to bring more people to this experience "

Un voucher di contenuto, ideale per stupire e per chi semplicemente vuole far scegliere la sorpresa nella sorpresa. Chi lo riceve ha tutto il tempo per decidere quando usufruire del regalo per tutto il periodo in cui l'attrattore turistico è in funzione (deve solo prenotare, senza costi aggiuntivi, tramite i servizi on line o telefonando 15 giorni prima al 345 6209640). Quest'anno la Pasqua non sarà solo dolce, ma soprattutto elettrizzante al pensiero di poter volare....


2012 Schedule
April
April 29, 30

May
Open May 1 and every Sunday:
1, 6, 13, 20, May 27

June
Open June 2 and every Sunday
2, 3, 10, 17, June 24

July
Open July 1 to 31 every day
Closed every Monday

August
Open August 1 to 31 every day

September
Open September 1 to 16 every day
Closed every Monday